---
Suggested citation format:
Ciolek, T. Matthew. 2002. Internet publishing in support of research. A presentation for the Regional Consultation Meeting on the Preservation of Digital Heritage for Asia and the Pacific, UNESCO & National Library of Australia, Canberra, 4-6 November, 2002.
www.ciolek.com/PAPERS/NLA2002/e-publishing2002.html
---
Internet publishing in support of research
by
Dr T. Matthew Ciolek,
RSPAS, The National Institute for Asia and the Pacific,
Australian National University, Canberra ACT 0200, Australia
tmciolek@coombs.anu.edu.au
A presentation for the
Regional Consultation Meeting on the Preservation of Digital Heritage for Asia and the Pacific,
UNESCO & National Library of Australia, Canberra, 4-6 November, 2002. Document created: 4 Nov 2002. Last revised: 7 Nov 2002
0. Abstract
This presentation discusses the key ingredients of successful and satisfying online publishing activities. It is based on the presenter's experience gained with electronic information since 1976, and with networked information since 1991.
1. The Internet: an ever-changing changing environment
---
---
2. Internet: the brief life of online information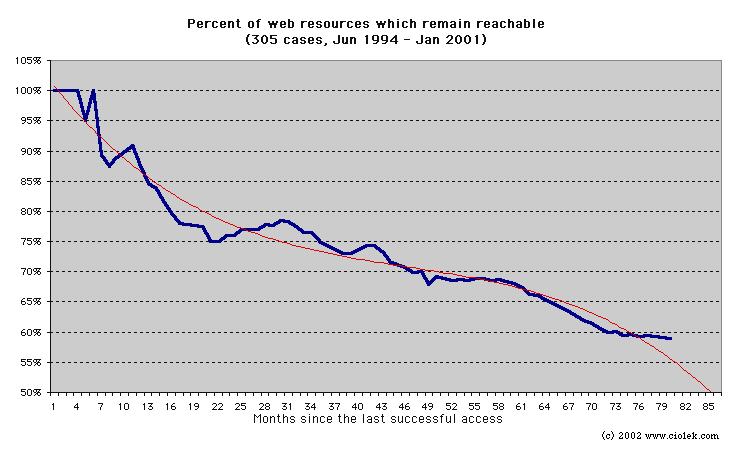 ---
---
3. Internet: a large scale, unforgiving competitive environment
over 38 mln WWW sites in early 2002 (Zakon 2002)
and, at the same time,
20% of all of today's web-traffic is captured by the 10 most popular sites,
40% by the top 100,
60% by the top 1,000, and
80% by the top 10,000 sites.
The remaining tens of millions of servers share the leftover 20% of the traffic (Kahle 2001).
---
---
4. Publishing for the Internet: a winning formula
Simple E-Publishing Technology

interoperable
stable
fast-transmitting/fast loading
low-tech (to maximise the potential audience)

Publication In 3 Parallel Formats

web (for visual impact, for browsing for being indexed by search engines)
email (for rapport with the audience, for extra-wide reach)
database (for information retrieval)

Good Content

specialised
factual, reference-style
unique - sampled from:

exotic sources (esp. the latest research, and research in languages other than the dominant language of the target audience)
wide range of sources
authoritative and rich sources

plus the extra value (unavailable from search engines!)

abstracts, TOCs, webometric measurements, evaluation, glosses, etc.

Chunkable and Predictable Structure

of the publication as a whole
of individual info-nuggets (an example)
(i.e. reviews published in "The Asian Studies WWW Monitor", coombs.anu.edu.au/asia-www-monitor.html)

Dublin Core Metadata
Simple, Memorable, Rock-Stable Address

current production area

easy to remember address
preferably a part of a larger system

meta- and background information
archival area

Systematic, Sustained, Long Term Operation
Simple Subscription System (for the email edition)
(e.g. an invitation to readers of the web edition to join a free email edition of the journal [using the following instruction: "(a) send e-mail to: majordomo@coombs.anu.edu.au; (b) message: subscribe asia-www-monitor your-email-address"] has resulted in approximately 450 subscribers over the years 1995, 1996, 1997, 1998, 199, 2000, 2001.
However, provision of a simple input box on the journal's web page, where a reader is invited to insert his/her email address and click on a 'subsribe' button, has resulted (between early Jan 2002 when the simplified system was first introduced and early Nov 2002, when this presentation was prepared) in additional approx. 2000 subscribers. Their number continues to grow by some 5-10 new subscribtions/day with no signs (so far) of slowing down.
---
---
5. The Internet: a large scale, interested, supportive environment
The high online visibility of "The Asian Studies WWW Monitor" ISSN 1329-9778
(coombs.anu.edu.au/asia-www-monitor.html) in the Google search engine eloquently demonstrates that with GOOD content and RIGHT publishing strategy (Ciolek 2001) becoming the top site even in a field with 1.8 mln competitors is not an impossibility .... ----------------------- start of an excerpt from www.google.com 4-Nov-2002 -------------------
| | |
| --- | --- |
| Searched the web for asian studies. | Results 1 - 10 of about 1,850,000. Search took 0.36 seconds. |
Asian Studies WWW VL
...
Asian
Studies
WWW Virtual Library. Established: 24 March 1994. Last
updated: 31 Oct 2002.
...
Asian
Studies
WWW VL Asia Global Resources.
...
Description:
Asia-Pacific Global Resources
Category:
Society > History > By Region > Asia
coombs.anu.edu.au/WWWVL-AsianStudies.html - 31k - 2 Nov 2002 -
Cached
-
Similar pages
Asian Studies WWW Monitor
RSPAS, National Institute for Asia and the Pacific, ANU. THE ASIAN STUDIES WWW
MONITOR. ... The Asian Studies WWW Monitor: early Nov 2002 Vol. 9, No. 21 (181). ...


Description:

Provides daily abstracts and reviews of new resources relevant to research, teaching and communications...


Category:

Science > Social Sciences > ... > Asian Studies > Directories
coombs.anu.edu.au/asia-www-monitor.html - 23k - 2 Nov 2002 - Cached - Similar pages
[ More results from coombs.anu.edu.au ]
The Association for Asian Studies, Inc.
...
aasianst.org. Last Update: November 1, 2002. Secure Site. The AAS website
is an official
Asian
Studies
WWW Virtual Library Associate site.
.......
------------------------------------------ end of the excerpt -------------------------------------
---
---
6. References
Ciolek, T. Matthew. 2001. Internet and Minorities. An unpublished paper. Asia-Pacific Research Online, Canberra.
www.ciolek.com/PAPERS/minorities2001.html
Kahle, Brewster. 2001. Personal communication, 6 Jan 2001, brewster@alexa.com, with unpublished results of an ongoing survey by www.alexaresearch.com.
Zakon, Robert H. 2002. Hobbes' Internet Timeline v5.6.
info.isoc.org/guest/zakon/Internet/History/HIT.html
Note: The great volatility of online information means that some of the URLs listed above may change, or disappear alltogether, by the time this article reaches its audience. Fortunately, since the early 1996, most of the web sites world-wide are now systematically tracked and permanently archived by The Internet Archive at the
www.archive.org
address. The Archive is perfect for tracking down a copy of a document whose URL ceased functioning.
7. Version and Change History
Other revisions incorporate minor editorial and markup fixes
---
---

visitors to www.ciolek.com since 08 May 1997.
Maintainer: Dr T.Matthew Ciolek (
tmciolek@ciolek.com
) Copyright (c) 2002 by T.Matthew Ciolek. All rights reserved. This Web page may be freely linked to other Web pages. Contents may not be republished, altered or plagiarized. URL http://www.ciolek.com/PAPERS/NLA2002/e-publishing2002.html [
Asian Studies WWW VL
] [
www.ciolek.com
] [
Buddhist Studies WWW VL
]